I received the latest product from Meguiar`s the other day. I had pre-ordered it Autogeek during a past sale only to meet the shipping limit criteria.
Pulled from this thread:
Meguiar`s Ultimate Fast Finish
Features:
Meguiar`s most advanced paint protecting formula
Technologically advanced, innovative, synthetic polymer coating provides relentless water beading protection wash after wash*
Protects for a full year!*
Meguiar`s fastest & easiest way to protect a paint finish, simply spray on & wipe off
Use by itself or even on top of wax to extend protection.
*Lab tested durability over 100 wash cycles using a pH balanced car wash
Details:
Part#: G18309
MSRP $17.99 USD
Size: 8.5 oz aerosol
Includes Microfiber Towel
For those that are not familiar with this product, it is the latest protection product from Meguiar`s. It was announced at SEMA 2016. Let`s get right into it.
The product comes is packaged in a nice box. Inside it contains the aerosol can and a black microfiber towel. That is right this is an aerosol application. The black microfiber is the same microfiber towel that is included with ultimate wax and is a black supreme shine microfiber.
We take a look at the box and see a nice display on one side with all of the features of the product. The other side has a photo of ultimate wash & wax and ultimate compound.
The claim of 1 year longevity and the statement "Lab tested durability over 100 wash cycles". We all know that durability and longevity in a lab are different than real world situations. I am not going to do a durability test. This was a test to see how this product is applied, the beading and sheeting of it. I do not know if it will live up to the 1 year claim. Again this is going to vary depending on the surrounding environment. Perhaps it will only last 5,6, 7 months etc. I will let someone else report back on that as I will be coating my daily driver within the next few weeks now that the repaint has cured for 90+ days.
Directions on the box. Pretty straight forward on application. Apply directly to the microfiber, spread it onto the surface, slip the towel for a final wipe. Repeat around the entire car.
I used my factory hood from my Pontiac Grand Prix as the test area since I have an aftermarket hood on the car. I started off by washing the hood as seen in the Big Blue Drying Towel review I did. After that I polished the hood with M205 to remove the sealants I was playing around with a few months back. I then followed up with CarPro Eraser to remove the polishing oils from M205. This is an optional step. I then proceeded to apply Ultimate Fast Finish.
These are the application items I used. I opted to use a microfiber applicator rather than the included towel. I used the included towel for the final wipe. This was my preference as the applicator is easier to control versus the towel and it fits in my hand much better. A microfiber towel or two is perfectly fine.
We move onto the application. The atomization of the nozzle is good. Not a lot of oversrpay. It is a nice tight spray pattern. I would recommend to do this indoors or when there is no wind. The wind could factor in just like most aerosols.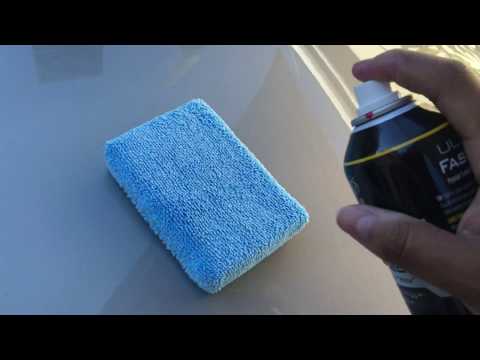 Once applied to the applicator I applied it and spread it around. With a few sprays I was able to apply to half the hood with relative ease. I actually think 2 sprays to prime would have been enough. 1-2 sprays would probably be all that is needed applying to additional panels. A little product goes a long way.
It did spread out easily. I had no problems spreading over the surface. The product does flash and it seems to do it very well. It required little to no final wiping. I don`t see an issue if someone missed a spot while doing a final wipe. This is basically a wipe on wipe off product. One could probably walk away after applying it but it`s better to be safer and do a final wipe to level out the product and avoid high spots.
The product flashing will vary depending on the surrounding environment (temperature & humidity). The flashing of it reminded me of Optimum Opti-Seal and Gloss Coat with the rainbow type of effect.
I tried to capture the flashing effect of it. It can be seen to the right of this photo.
It wasn`t sunny in the area I was working at as the house blocked the nice 72 degree sunny weather
. But the gloss looked real nice.
For those Meguiar`s fans this would make a nice 1-2 combo.
I was curious to see how the water behavior and I used the infamous water bottle test on an area that is slanted as the hood is sitting flat on the display stands and does not mimic how a hood slopes in most real world applications. I did wait somewhere between 12-24 hours before I got it wet with the hose. That is still the recommended time from Meguiar`s. At the time, UFF was on the paint for about 10-15 mins.